Restaurants & Bars
Savor the pleasure of a 5-star gastronomic proposal made up of 5 restaurants, 4 snacks and 4 bars, in addition to the entertainment experiences and the All-Inclusive Plan service that will be part of your stay at The Villas Cancun by Grand Park Royal . Live a few days of relaxation and unlimited enjoyment in the best destination in the Caribbean, Cancun!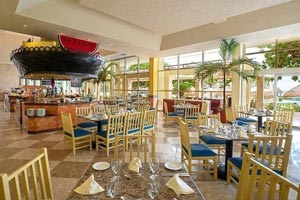 Cocay Restaurant
Your signature restaurant, the Cocay is elegant, casual, classy and loaded - for breakfast, lunch and dinner. Contemporary International and Mexican specialties are served from impeccable and generous buffets that warm hearts and whet appetites. Live dinnertime entertainment accompanies chefs' specialties cut from the butcher's block, and every meal guarantees a surprise, whether in a premium platter or in the care with which our legendary service is provided.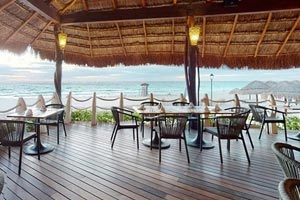 La Concha
La Concha offers a unique atmosphere, Flor de Sal welcomes you for breakfast, lunch, and dinner a la carte with delicious Mexican dishes, fish, and seafood. Every night, during dinner you will find a special dish and a tequila and mezcal tasting.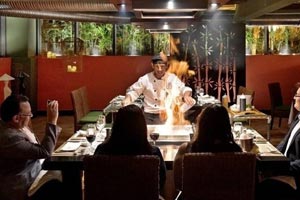 KOI Restaurant
Transport yourself to an incredible culinary experience in our a la carte oriental restaurant with original teppanyaki tables. Every evening we feature a special dish and a welcome drink based on traditional oriental flavors.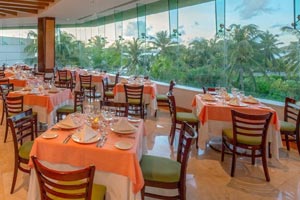 El Mirador
With glass walls and an outstanding view of the Nichupté Lagoon, El Mirador specializes in a-la-carte Italian specialties cooked to perfection and served with flair. Live entertainment and an ultra-tempting desserts buffet make it the highlight of any evening. Topped off with Italian espresso or another glass of wine, there is simply no finer toast to your dream vacation.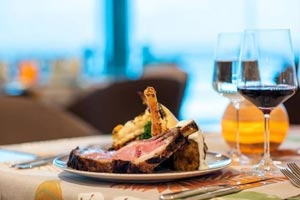 Grand Prime Rib House
This space with exquisite dishes from land and sea will be the ideal place to close a memorable day at our resort. Spoil yourself with our house specialty, the exquisite Prime Rib. A quality cut which is cooked in a special oven in slow cooking for more than 6 hours and then served in a classic Gueridon.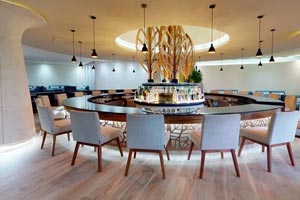 Cassis
Lobby bar, exclusive service for people over 22 years old.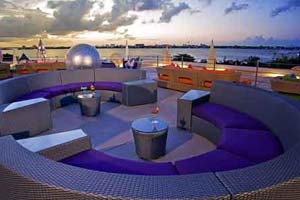 Ekinox Lounge
Rooftop, above the Mirador, there's something for everyone. With outstanding sunset views of the Nichupté Lagoon, it's a stylish retreat and a chance to live it up when the sun goes down.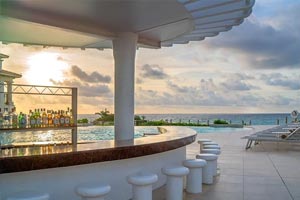 Fresco (Deck & Pool)
10:00 a.m. - 8:00 p.m.
Across from the main swimming pool, relax with your favorite cocktail, enjoy the sun and views that won't quit.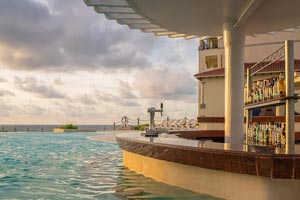 Premier (Deck & Pool)
Swim-up from the swimming pool, for all-day drinks and cheer.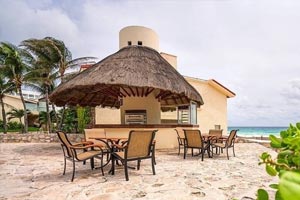 Pizza House
This place with a wonderful view of the sea is ideal to enjoy delicious and original oven-baked pizzas prepared traditionally at the moment by lunchtime. Every day there is a different special pizza.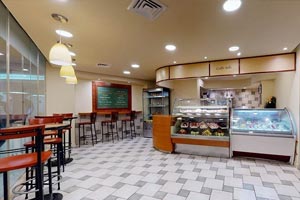 CafÉ SolÉ
Just off the main lobby, there's coffee, tea, and ice cream. How about a fresh panini? Somehow, it just makes a ton of vacation sense and it's one of the most popular spots in the entire hotel.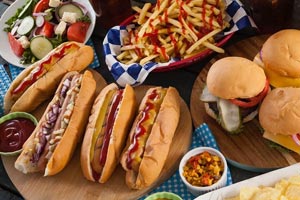 El JardÍn Snack Bar
Variety of dishes from El Jardín at The Villas by Grand Park Royal Cancún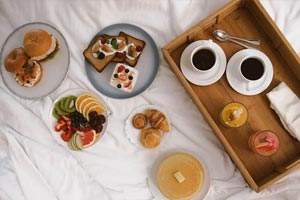 Room Service
Variety of dishes from El Jardín at The Villas by Grand Park Royal Cancún